[ad_1]
The pandemic put a wrench in the plans of several East Valley high school football programs the last two years.
Many had sought matchups with opponents in California and other surrounding states before COVID-19 put a halt to that.
But that is now in the past, and several East Valley teams have made it a priority to start their respective football seasons outside of state lines.
"I want to give these kids a preferred experience, something they will remember for the rest of their lives," Perry coach Joe Ortiz said. "This will be a first for everyone. Going to Vegas, we watched film, and the backdrop is the strip. So, it'll be a cool experience to see all of that stuff."
Since he was hired this off-season, Ortiz has brought along many firsts for the Perry football program.
They competed in a spring ball showcase for the first time, as well as 7-on-7 and big man competitions throughout the summer. And now for the first time they will open against a team from outside Arizona.  
The Pumas face Las Vegas Spring Valley on Friday. The ability to travel has the entire Perry roster excited, especially the senior class.
They won just three games last season but return key starters on both sides of the ball. They're athletic enough to surprise teams, and they want to start by sending a message in Las Vegas.
"My four years on varsity, this has been the best year of spring ball, summer ball, practice before the season, we're ready for this year," senior defensive end Aiden Herring said. "We always see Basha, Hamilton, Chandler with all these out-of-state games. But with us not going out of state, I feel like it puts us in that category."
While the Pumas head north to Las Vegas, nearby Campo Verde will head west toward Moorepark, Calif. to compete in the Moorpark Classic, a showcase event that features the Coyotes, Williams Field and Queen Creek football programs.
Like Perry, this is the first out-of-state trip for the Campo Verde football program, but it has been in the works for years.
"It provides them with the opportunity to develop as a family," Campo Verde coach Ryan Freeman said. "But we're going to treat this like we always do. It's a business trip. We're not doing the beach on Friday or going to an amusement park. Sunday they'll get a little bit of time but it's a business trip."
The Coyotes are a team frequently counted out to start every season. Their roster isn't filled with Division I recruits. Instead, they have a group of hard-nosed football players that rely on discipline and pristine work ethic to get them wins throughout the season. 
Campo Verde set a new foundation with its trip to the championship in 2019. That has shifted a bit under Freeman, with new helmets and goals to earn the patented lambda on the back of the helmets.
That same discipline will be needed when they face an improved Chavez team from Delano, Calif. on Saturday that graduated just five seniors last year. But Campo Verde players are ready to put their program on a national map.
"It's really exciting," said senior Nate Gomez, who will carry Campo Verde's shield out onto the field every game. "I love when people doubt us. It fuels the team more."
Campo Verde plans to watch Williams Field's matchup against Cajon on Friday at Moorepark. It is one of the few times the nearby rivals will root for one another. But that is the case across the board for Arizona teams traveling out of state in the first two weeks of the season or hosting teams from elsewhere in the country.
It's Arizona versus everybody.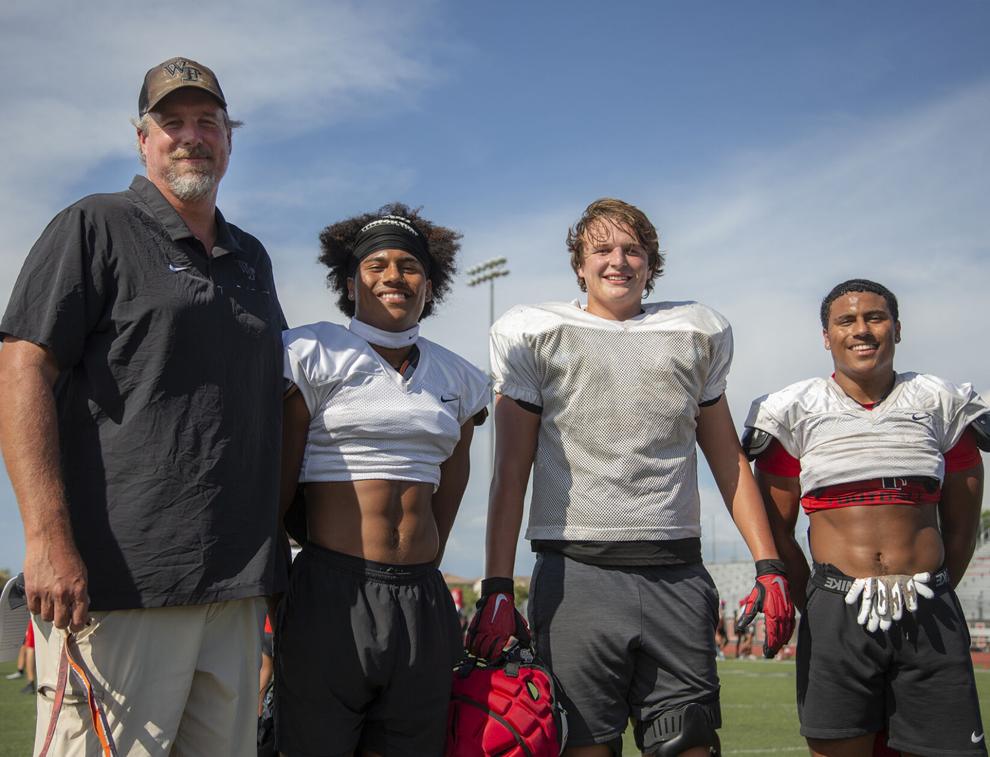 "We want to let everyone know that Arizona is on the map, too," Williams Field senior defensive back Josiah Dye said. "We're always really underrated."
Cajon went 10-1 last season, losing in the playoffs, and returns both quarterbacks that saw considerable playing time and its top wideout. The Cowboys are one of the best teams playing in the Moorepark Classic, along with San Joaquin Memorial, Queen Creek's opponent.
It presents a challenge for Williams Field, but the Black Hawks are used to having a target on their backs.
Under head coach Steve Campbell Williams Field has missed the playoffs once since 2008.
Williams Field has a question mark at quarterback after the departure of CJ Tiller, but two transferred into the program and there's currently an ongoing competition with at least three players in the room.
Where the Black Hawks are solidified is along the offensive line, led by Campbell's son, Colton. At running back Josiah's twin brother, Joshua, and Dylan Lee will lead the way with several other capable ball carriers behind them.
Josiah meanwhile, leads Williams Field's talented secondary, while Fili Snuka laulu, the team's leading tackler last season, returns at linebacker.
"We need everyone to step up, especially us seniors," Joshua said. "We have to take on more responsibility, have more energy, talk, communicate and everything."
Along with the three Gilbert schools and Queen Creek, Red Mountain, Chandler and Desert Vista will also travel to California. The three will compete in The Honor Bowl in San Diego. Mountain View will face Helix, while Basha takes on Los Alamitos in the Los Angeles area.
Saguaro will stay home but host one of the top programs in the country in Bergen Catholic from New Jersey.  
Campbell believes Arizona is on the right track to get recognition.
"It brings a little more recognition to the state," Campbell said. "We've seen our recruiting kick up in the state, but I think we still have more work to do to put Arizona on the map when it comes to those national level conversations."


[ad_2]
Source link