[ad_1]
NEWS | FEATURES | PREVIEWS | EVENTS
By Spotlight Central, Photos by Love Imagery
originally published: 09/01/2022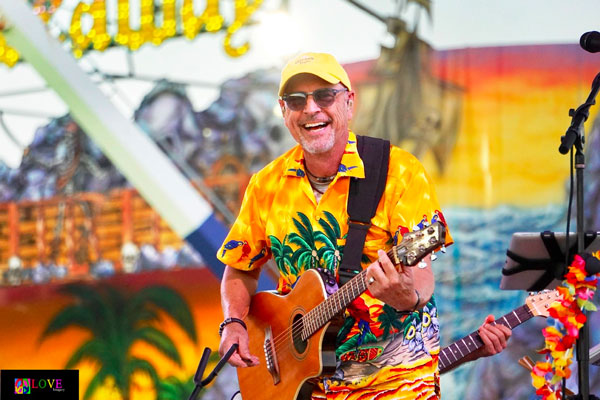 Music lovers replete with comfy beach chairs, colored blankets, and ice-cold coolers wait beside the ocean in Seaside Heights, NJ this Thursday, August 18, 2022 evening for the start of a free concert by the Jimmy Buffett tribute band, Parrotbeach.
Following an announcement by Seaside Heights Borough Administrator Christopher Vaz, the musicians of Parrotbeach — Remy St. Martin on vocals/rhythm guitar, Mojito on lead guitar, Jamaica Joe Maka on keyboards, Jah on bass, and Jay Dittamo on drums — take the stage on the ocean flanked by the boardwalk and the bustling amusement rides located on colorful Casino Pier.
Remy St. Martin looks out over the large crowd and exclaims, "Look how many people we've got here tonight!" before announcing, "Away we go to Jamaica!" Here, he and the band launch into an island-influenced arrangement of Harry Belafonte's "Jamaica Farewell."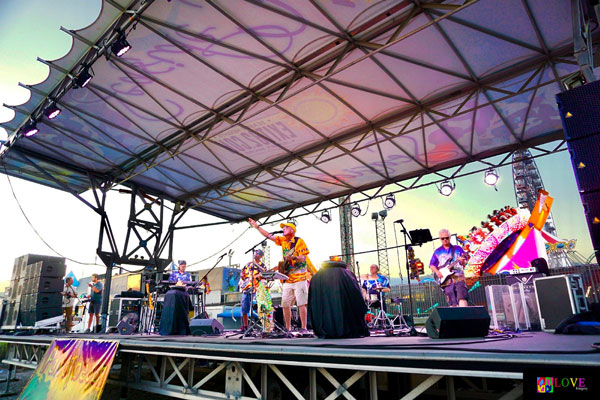 As St. Martin croons, audience members join him in singing the song's catchy "I'm sad to say I'm on my way/Won't be back for many a day/My heart is down/My head is turning around/I had to leave a little girl in Kingston town" refrain.
Remy and the band follow up with Jimmy Buffett's "I Don't Know (Spicoli's Theme)" which has the crowd clapping overhead and singing along to this rockin' tune which was made famous in the 1982 film, Fast Times at Ridgemont High.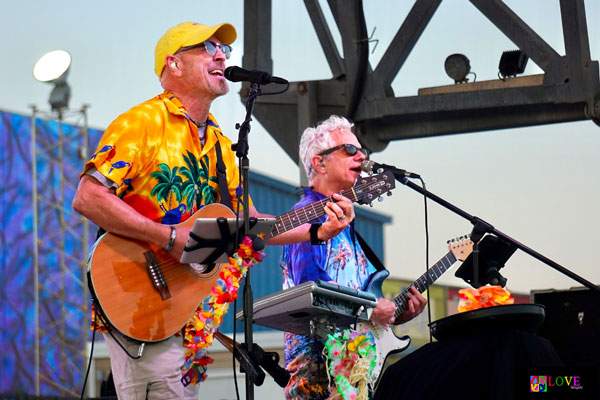 Advertise with New Jersey Stage for $50-$100 per month, click here for info
---
St. Martin announces, "If I won the lottery, I'd buy an island and look out on one particular harbor." Here, he and the group perform Buffett's reggae-influenced "One Particular Harbor" where adults clap along to the song's beachy vibe while their kids play in the sand.
Audience members enjoy Parrotbeach's interpretation of Johnny Nash's "I Can See Clearly Now" and happily join in the fun singing and dancing on Jimmy Buffett's popular "Cheeseburger in Paradise."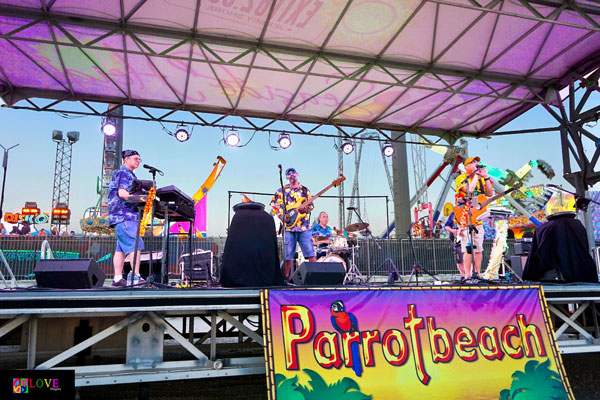 After Buffett's "Boat Drinks," where Parrot Heads on the sand happily respond to the song's "I gotta go where it's warm/(I gotta go where it's warm)" lyric, St. Martin tells a tongue-in-cheek story about his great-great-great-grandfather who was a Caribbean pirate.
As Remy performs Buffett's story song, "A Pirate Looks at Forty," the shore crowd listens intently as he sings, "Mother, Mother Ocean, I have heard you call/Wanted to sail upon your waters since I was three feet tall." Afterwards, he and the band follow up with the Jimmy Buffett/Zac Brown collaboration, "Knee Deep."
Announcing "Let's get the people singing!" St. Martin and Parrotbeach launch into a happy-go-lucky rendition of Sam Cooke's "Another Saturday Night."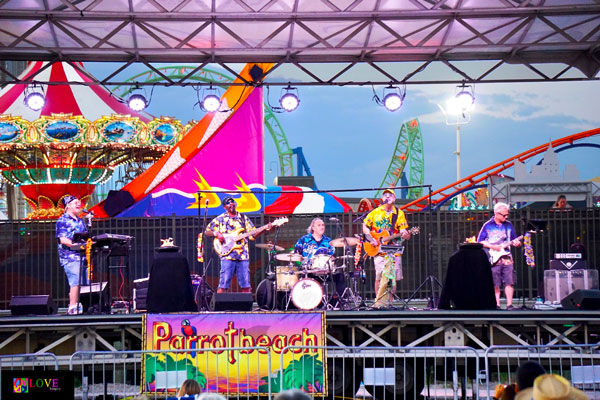 Music lovers on the beach sing along to the tune's catchy "Another Saturday night and I ain't got nobody/I got some money 'cause I just got paid" refrain while others happily dance in the sand.
A highlight of the evening's show is Parrotbeach's interpretation of Jimmy Buffett's 1977 Top 10 hit, "Margaritaville" which has music lovers joining in on the tune's famous "Wastin' away again in Margaritaville/Searchin' for my lost shaker of salt" chorus. As the band plays, two women dance by the ocean to the island vibe looking like rainbow-colored butterflies in their lighted capes.
Following Buffett's famous duet with Alan Jackson, "It's Five O'Clock Somewhere," where the crowd really starts to party, Parrotbeach performs King Harvest's "Dancing in the Moonlight" featuring keyboardist Jamaica Joe Maka on vocals.
Another highlight of tonight's show is the group's rendition of "Fins" where Remy instructs audience members on how to dance by the sea with their "Fins to the left" and "Fins to the right" to the band's upbeat sound.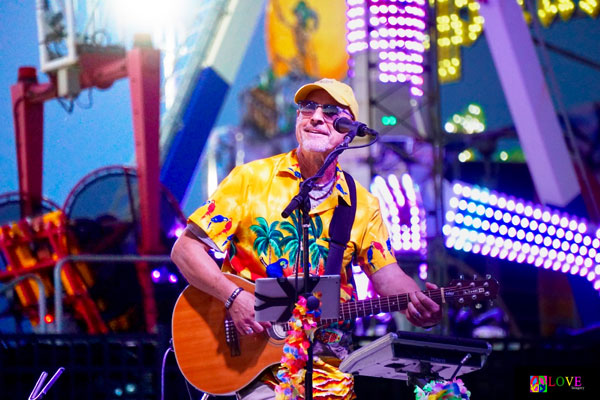 After an island-spiced version of Van Morrison's "Brown Eyed Girl" which concludes with a snappy "Cha-cha-cha!" ending, St. Martin and the band invite audience members up to the edge of the stage and have them move their hips to the left, to the right, to the back, and to the front on the sparkling "Dollar Wine Dance" which concludes with a lively audience conga line.
The crowd cheers and the Parrotbeach musicians perform Jimmy Buffett's ballad, "Come Monday," before following up with a foot-stompin' rendition of The Beach Boys' "Sail On, Sailor." Prior to concluding tonight's show with their interpretation of Crosby, Stills, Nash and Young's "Southern Cross," on behalf of all of the members of Parrotbeach, St. Martin thanks the crowd of music lovers in the sand for coming out tonight, exclaiming, "This is community! This is what everyone needs!"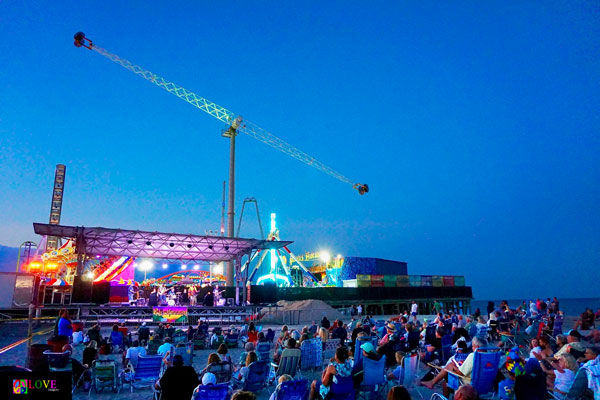 To learn more about Parrotbeach, please go to parrotbeach.com. For information on future concerts and events in Seaside Heights, NJ please click on exit82.com.
Advertise with New Jersey Stage for $50-$100 per month, click here for info
---
Photos by Love Imagery
Spotlight Central. Your source for Jersey entertainment news and reviews
Love Imagery Fine Art Photography. all you need. peace/love/flower/power
[ad_2]
Source link