[ad_1]
originally published: 09/29/2023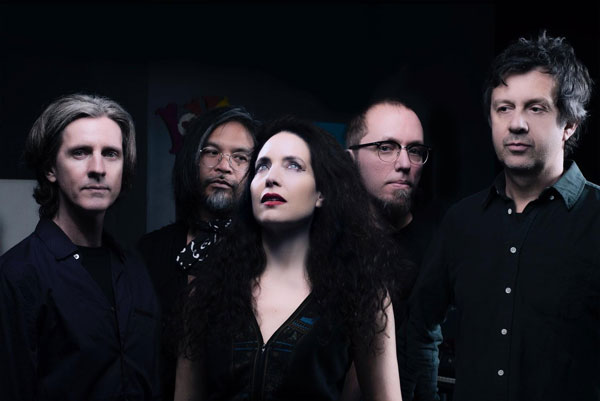 "Undertow," the title track of Elk City's recently released seventh album by Montclair-based Elk City, is the Makin Waves Song of the Week. PHOTO BY PHIL SILVERBERG
Montclair-based art-rock outfit Elk City have released their seventh album, "Undertow," on Magic Door Record Label, an indie the band's co-founding drummer Ray Ketchem and vocalist Renee LoBue co-founded several years ago with Guided by Voices' Kevin March.
The LP's opening title track is the Makin Waves Song of the Week.
As the Makin Waves Song of the Week, "Undertow" also can be heard between 6 and 8 p.m. on Sept. 29 on "Radio Jersey" at ThePenguinRocks.com. If you miss it, you can tune in any time in the archives at The Penguin and MixCloud.
"'Undertow' is the companion piece to our 2022 album 'Above the Water,'" said Ray, whose production credits include Guided By Voices, Luna, and Gramercy Arms. "Both albums were recorded simultaneously. We actually considered releasing them together as a double album. 'Undertow' is the darker of the two. Numerous songs on 'Undertow' are long and sprawling and take the listener on unexpected adventures. Of course, there are a few pop songs too. Like all our albums, there are pop songs, but 'Undertow' has a musical darkness that is unique to this release, yet lyrically it seems to be about independence and personal strength."
Advertise with New Jersey Stage for $50-$100 per month, click here for info
---
In the lead up to the album, the band chronicled the theme of strength with the singles "Tried to Move On" and "Strong (You're Not Alone)."
Like "Above the Water," "Undertow" is inspired by the band's love of documentary films that explore the allure of cults and extreme alternative lifestyles, such as like "The Source Family" and "Wild, Wild Country."
Renee said, "The most interesting thing about these records to me is that the water theme was not planned. The water theme revealed itself to us after. Even more ironic: The cover art pieces that were chosen for both records have water themes. I created both pieces of art before the records were done. At the time, I didn't realize they were part of a larger water theme expressed in the music. Upon completion, we were able to look at both the art and the music with a way more objective lens. We could see the hidden theme looking back at us. It had been there all along."
The album was produced, recorded, mixed and masted by Ray in his Montclair-based Magic Door Recording studio, which legendary studio designer George Augspurger helped transform into a freeform space where vintage microphones, modern studio gear, and bespoke sound tuning elevate and inspire.
Elk City is rounded out by bassist Richard Baluyut (Versus) and guitarists Sean Eden (Luna) and Chris Robertson (Feed, Punch Havana). They will perform Sept. 30 at Bowery Ballroom in New York City opening for a reunion of the '90s band Velocity Girl. Elk City also will open Dec. 1 for Ted Leo at Outpost in the burbs in their hometown of Montclair.
For more about the band, click https://linktr.ee/elkcity. For more about the Magic Door label, check out https://magicdoor.bandcamp.com. And for the studio, visit https://www.magicdoorrecording.com. 
Bob Makin has produced Makin Waves since 1988. Follow Makin Waves on Facebook and contact Bob at makinwaves64@yahoo.com. 
ART | COMEDY | DANCE | MUSIC | THEATRE | COMMUNITY
Thank You For Being So Dead Murder Mystery

Friday, September 29, 2023 @ 6:00pm
Avenel Performing Arts Center
150 Avenel Street, Avenel, NJ 07001
category: theatre
Click here for full description
---
Dead On Live

Friday, September 29, 2023 @ 8:00pm
Count Basie Center for the Arts
99 Monmouth Street, Red Bank, NJ 07701
category: music
Click here for full description
---
Waiting for Godot

Friday, September 29, 2023 @ 8:00pm
Shakespeare Theatre Of NJ – F.M. Kirby Shakespeare Theatre
36 Madison Avenue, Madison, NJ 07940
category: theatre
Click here for full description
---
Aaron Lewis Acoustic

Friday, September 29, 2023 @ 8:00pm
Bergen Performing Arts Center (bergenPAC)
30 North Van Brunt Street, Englewood, NJ 07631
category: music
Click here for full description
---
Once the Dust Settles Flowers Bloom by Olivier Tarpaga Dance Project

Friday, September 29, 2023 @ 8:00pm
McCarter Theatre Center (Matthews Theater)
91 University Place, Princeton, NJ 08540
category: music
Click here for full description
---
Opening Night: Hitting New Heights with Mandy Gonzalez and Javier Muñoz

Friday, September 29, 2023 @ 8:00pm
Mayo Performing Arts Center (MPAC)
100 South Street, Morristown, NJ 07960
category: music
Click here for full description
---
The Last Passenger, Pictures Only – Online for 24 Hours

Friday, September 29, 2023 @ 12:00am
VIRTUAL
, category: film
Click here for full description
---
Bulrusher

Friday, September 29, 2023 @ 8:00pm
McCarter Theatre Center (Berlind Theater)
91 University Place, Princeton, NJ 08540
category: theatre
Click here for full description
---
---
For more event listings, click here
---


[ad_2]
Source link