[ad_1]
The time has come.
'N Sync just released its first new song in over 20 years with "Better Place," which is part of the upcoming "Trolls Band Together" movie. Anxious fans first got a sneak peek at the song in the new movie trailer, released at midnight on Sept. 14.
But on Sept. 28, the full song dropped and it's just as catchy as people would expect.
"Better Place" kicks off with Justin Timberlake singing the first verse, followed by JC Chasez bringing in his smooth vocals to the upbeat track.
News of their new song came just one day after the iconic boy band, which consists of Timberlake, Chasez, Lance Bass, Joey Fatone and Chris Kirkpatrick, reunited at the 2023 MTV Video Music Awards, shocking fans (including Taylor Swift).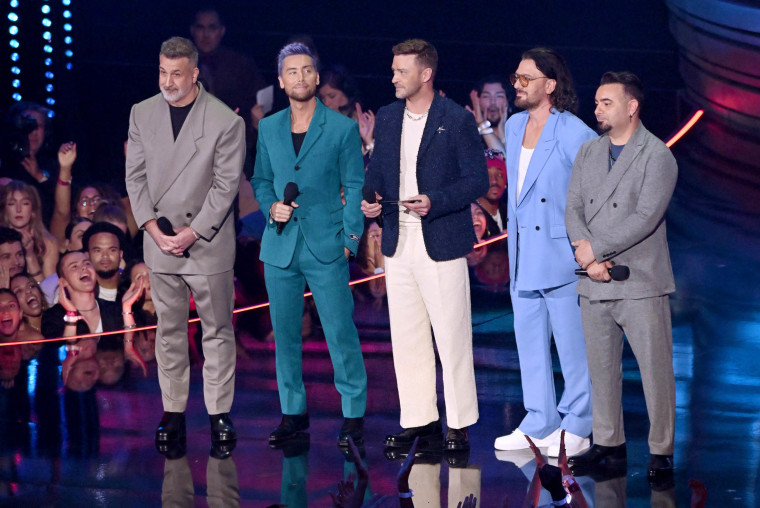 "Are you doing something? What's gonna happen now?" Swift asked the group on stage after they presented her with the award for best pop video. "They're gonna do something and I need to know what it is!" And now we all know.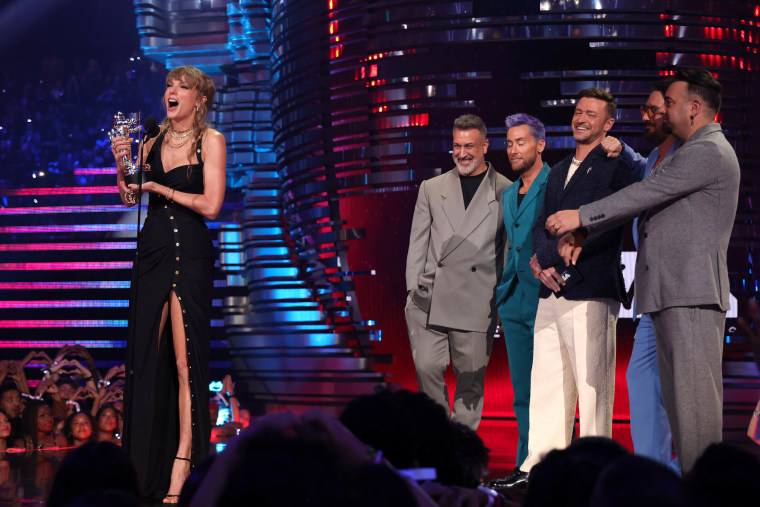 Ahead of the song's release, Timberlake posted a behind-the-scenes video on Instagram showing the group coming together in the recording studio for the song.
"If we do this song, it's a love letter to our fans. I would be honored to have the group on this song," he said in the video.
"Who's ready for a reunion?!" one of the group members is heard saying.
When is 'N Sync's new song "Better Place" being released?
Timberlake has been the voice of Branch in the "Trolls" franchise, which began with the 2016 "Trolls" movie and various spin-offs since. "Trolls Band Together" will be the third feature film in the franchise and will be released in theaters Nov. 17, 2023.
But no need to wait that long to hear "Better Place" in full. The song is now available.
Universal tells TODAY.com that while the 'N Sync song "I Want You Back" is heard in the trailer and will be on the soundtrack, Timberlake re-recorded it for the film with some other movie characters, voiced by Eric Andre and Daveed Diggs.
Is 'N Sync releasing any other music for "Trolls"?
Universal tells TODAY.com that 'N Sync has only recorded "Better Place" for the film.
Clues 'N Sync was going to release a new song
Fans have had sufficient reason to think something was in the works with 'N Sync. Bass talked to Billboard in February, saying, "I do think the world needs something again from 'N Sync."
More recently, fans began suspecting "Trolls Band Together" may include an 'N Sync song after advertisements began appearing for the movie around Los Angeles in late-August, and they included the band's logo.
Additional clues that some 'N Sync news was about to be made were found in the movie's plot being about a boy band called "Brozone."
In the original trailer, the "Trolls" boy band makes several nods to boy bands throughout the decades.
Floyd, voiced by Troye Sivan says at one point in the trailer, "Branch, we're out of sync. We've gone from boys to men, and now there's only one direction for us to go: to the back streets."
Then, on Sept. 13 before the new trailer was released, Timberlake shared a TikTok video seemingly recorded while they were at the VMAs.
In the video, the band stands together and lip syncs as audio from a 1999 "Friends" episode where Rachel and Joey want to but initially can't tell each other about a secret: that Monica and Chandler are dating.
"Do you know something?" Joey asks.
"Do you know something?" Rachel responds.
The two go back and forth until the end of the clip, which the boy band pantomimes.
CORRECTION (Sept. 14, 8:14 a.m. ET): A previous version of this article stated in the headline 'N Sync's new song is "Better Together." It is "Better Place." The article has been updated.
[ad_2]
Source link