[ad_1]
After last weekend's weather ruined many scheduled events, this week's forecast isn't as bad, which is good news for fans of festivals. The Made in New Jersey Festival focuses on things created in the state, while several Philly and suburban festivals center on culture, food, and drink — including Upper Darby's International Fest. The Philadelphia Orchestra opens its 124th season with Yo-Yo Ma, while Delaware County shines a light on its arts and cultural institutions during Delco Arts Week. We're keeping it mum, as Longwood Gardens' Chrysanthemum Festival opens Saturday.
New Jersey | Delaware | Special Events | Arts & Culture | Halloween | Food & Drink | Sports | Music
---
New Jersey
Made in Jersey Festival
Where: Saturday, Sep. 30, 11 a.m. – 6 p.m.
When: Wiggins Waterfront Park, 2 Riverside Dr., Camden, N.J.
How much: Free
If they created it in New Jersey, you'll find it at the Made In New Jersey Festival. The free event incorporates food, beers, wines, and spirits made in the Garden State, as well as items of various kinds from crafters and makers. The live music lineup includes homegrown artists Matt Cappy, the B Street Band, and the Lenahan Band. 
---
Delaware
Chillin with Charlie
Crowd-pleasing Delaware-based cover band, Chillin with Charlie, brings their genre-mixing live show to The Queen. Their range extends from pop music artists like Prince and Billy Joel to grunge bands like Alice in Chains and Pearl Jam to country acts like Luke Bryan and Darius Rucker. Singing along to your faves is encouraged.
---
Special Events
Philly AIDS Thrift 18-Year Anniversary Block Party
Where: Philly AIDS Thrift, 710 S. 5th St. 
When: Saturday, Sept. 30 noon – 6 p.m.
How much: Free, pay as you go
Philly AIDS Thrift celebrates its 18th birthday and the return of the Halloween shopping season with a block party and street festival. Live music and games, a celebrity dunk tank, food trucks, and craft beers are part of the day-long celebration. CBS3's Wakisha Bailey emcees the fourth annual pie-eating contest and the Double Dutch Meet-Up will be there, too.
Hunter Derby
Penns Woods Winery is hosting a Hunter Derby — a two-round horse jumping competition on Saturday and Sunday. The equine event comes with bottomless mimosas, live acoustic music performances, local food trucks and vendors, and fun for kids, including a stick-horse class.
Delco Arts Week
Where: Multiple venues
When: Sunday, Sept. 30 – Sunday, Oct. 8
How much: Various prices
Delaware County celebrates its arts and cultural institutions with the fifth annual Delco Arts Week, encompassing more than 70 events over nine days. The week includes a new Andrew Wyeth exhibition, an Art in the Park workshop, the Penn State Master Gardeners of Delaware County Fall Fest, and an Autumn Harvest Painting Party. 
Out & About in MNYK
Where: Multiple venues in and around Manayunk
When: Thursday, Sept. 28 – Sunday, Oct. 1
How much: Various prices
Ahead of OURfest, the National Coming Out LGBTQ+ weekend which comes to Philadelphia next weekend, Manayunk hosts the Out & About in MNYK Festival. The four-day fest includes Queer Comedy Night, a Queer Run, a Pride Party, the Broadway Under the Big Top cabaret, and drag brunches with Fat Lady Brewing and Philly Drag Mafia. On Saturday, there's an all-day vendors and artisans market.
Midtown Village Fall Festival
Where: Several blocks adjacent to 13th and Walnut streets
When: Saturday, Sept. 30, noon – 8 p.m.
How much: Free, pay as you go
Center City's fall food fest, the 16th annual Midtown Village Fall Festival, features food and drink samplings from area restaurants and multiple stages of live entertainment. The fest takes place over several Center City blocks and includes activities suitable for kids.
West Craft Fest
Where: The Woodlands, 4000 Woodland Ave. 
When: Saturday, Sept. 30, 11 a.m. – 5 p.m.
How much: Free, pay as you go
Location is everything at the West Craft Fest, set at the historic Woodlands Cemetery. Local wares "made with care" are the focus, and attendees can also make crafts onsite to take home. Live music and food trucks will be onsite for the day-long event.
Upper Darby International Festival
Where: Five Points Intersection at 100 Garrett Rd. 
When: Saturday, Sept. 30 – 1 p.m. – 6 p.m.
How much: Free, pay as you go
Upper Darby bills itself as "the world in one place" as the township boasts 85,000 residents who speak more than 100 languages. The diverse community comes together for the Upper Darby International Festival. Food, music, and dance performers from multiple cultures and a parade of flags reflect the fest's inclusive theme.
St. Nicholas of Tolentine Authentic Italian Festival
Where: 1700 S. 9th St. 
When: Sunday, Oct. 1, noon – 8 p.m.
How much: Free, pay as you go
St. Nicholas of Tolentine Authentic Italian Festival celebrates the sons and daughters of Italy no matter how many generations removed from their home country. The fest has been going on since 1987, with the theme of faith, family, and tradition — an 11 a.m. Mass is followed by a procession of statues of saints and their followers. Aside from the many examples of Italian cuisine available onsite, there are games and rides for kids, live music, gift bags, and raffles.
Chrysanthemum Festival
Where: Longwood Gardens, 1001 Longwood Rd. 
When: Saturday, Sept. 30 – Sunday, Oct. 28. Sunday, Monday and Wednesday, 10 a.m. – 6 p.m., Thursday, Friday and Saturday, 10 a.m. – 9 p.m.
How much: $2 – $25 
As cooler fall temperatures move in, chrysanthemums are available at nurseries and home stores everywhere to shore up flagging landscapes. At Longwood Gardens, the mighty mums are the focus of the Chrysanthemum Festival, where you can see the full variety of the blooms they describe as "fall's favorite flower."
---
Arts & Culture
No Exit
Jean-Paul Satre's classic play, "No Exit," finds three newly deceased people in a drawing room with no windows or mirrors and a locked door. It doesn't appear to be heaven, exactly, but the trio is surprised to find they feel pretty comfortable regardless. Is hell a physical place or a figurative one? Only a French playwright/philosopher would try to find a definitive answer.
Cirque du Soleil Bazzar
The high-flying troupe Cirque du Soleil brings "Bazzar" to the Philadelphia area in the North American premiere. If you enjoy live performance and artistry with a touch of "How in the world do they do that?" — this is the show for you.
Citizenship Art Bazaar
Where: Lenfest Plaza (at the Pennsylvania Academy of Fine Arts)  118-128 N. Broad St. 
When: Saturday, Sept. 30, noon – 3 p.m.
How much: Free pay-as-you-go
When the African American Museum in Philadelphia and the Pennsylvania Academy of Fine Arts collaborated on the "Rising Sun: Artists in an Uncertain America" exhibit earlier this year, it boosted both institutions. So much so that its original run was extended, along with additional special programming, including this weekend's Citizenship Art Bazaar. The Eubie Nieves Band will perform and cultural organizations including Art-Reach, the Indigenous People's Day Philly, the Museum of Black Joy, Opera Philadelphia, Taller Puertorriqueño, and others will be on-site to share information about their missions and connections to the community.
Assassins
We're not sure why iconic composer Stephen Sondheim thought a tale of nine assassins would make for a good musical, but with a career that includes "West Side Story," "Gypsy," "A Funny Thing Happened On the Way to the Forum," and "Into the Woods," we don't question it. "Assasins" follows the lives of nine people who changed the world, albeit in the most violent sense, including JFK killer Lee Harvey Oswald, Abraham Lincoln's murderer John Wilkes Booth, and Lynette "Squeaky" Fromme, who tried to kill President Gerald Ford.
---
Halloween
Fright Factory
It's not Halloween yet, but why wait a whole month to enjoy all the attractions? You can do it right now as Fright Factory opens this weekend. Billed as a high-scare, high-startle attraction that Travel Channel said is one of the nation's most frightening "haunted" locations, it comes with a long list of rules and precautions. Consider yourself warned.
---
Food & Drink
Parks on Tap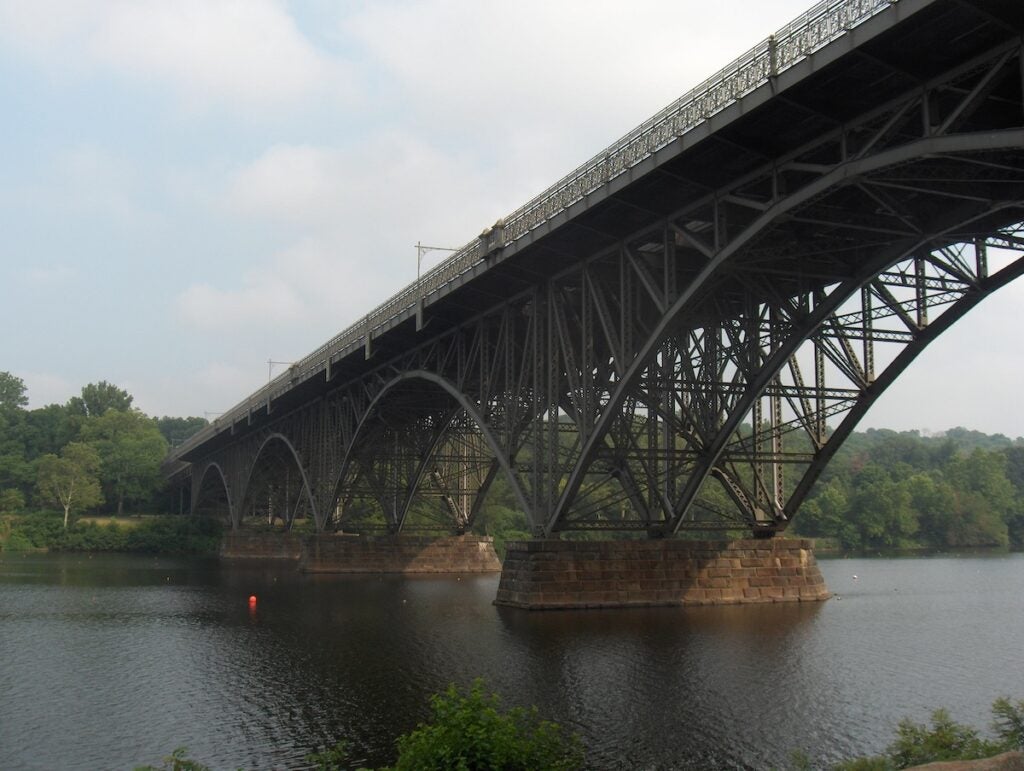 Where: Strawberry Mansion Bridge 
When: Thursday, Sept. 28, Friday, Sept. 29, 4 p.m. – 10 p.m., Saturday, Sept. 30, Sunday, Oct. 1, noon – 10 p.m.
How much: Free, pay as you go
If enjoying a cold brew on a bridge with like-minded company has been on your bucket list, it can now be your reality. Parks on Tap, the city's roving beer garden, hosts its last pop-up this season on the Strawberry Mansion Bridge. We're figuring that means no cars — just a chance to see the world from a higher perspective.
South Street Smorgasbord
Where: Multiple locations
When: Through Sunday, Oct. 1
How much: $10 and under snacks, $20 – $45 lunch and dinner specials
South Street enters the restaurant week chat in its own quirky way with South Street Smorgasbord, a dining promotion that includes $10 and under snacks, a $20 lunch and dinner, and $40 – $45 dinner specials. It takes place on and around South Street incorporating old faves like Bridget Foy's and Brauhaus Schmitz, as well as new and buzzy eateries like Wim Cafe and Mahalo Hawaiian Barbeque.
Fall for Ardmore Festival
Where: Schauffele Plaza, 99 Cricket Terrace 
When: Saturday, Sept. 30, 2 p.m. – 6 p.m.
How much: Free, pay as you go, advance drink tickets $45, VIP tickets $100
The Fall for Ardmore Festival transforms Schauffele Plaza into festival central and a celebration of the town's 150th anniversary. The requisite food, drink, children's activities, and vendors will be there, along with the option to purchase a VIP ticket package or advance drink packages. A free historic walking tour led by historic preservation planner Greg Pritchard leaves Cricket Terrace at 2:30 p.m.
Philadelphia All Star Craft Beer, Wine, and Cocktail Music Festival
A day tasting wine, brews, and cocktails? Where do we sign up? That's what's happening on Saturday at Citizens Bank Park at the All Star Craft Beer Wine and Cocktail Festival. Everyone goes home with a commemorative glass but VIP ticket holders get a meet and greet with Phillies alumni and an even higher-level VIP ticket comes with top-shelf wine, beer, and drinks.
---
Sports
The Philadelphia Eagles v. The Washington Commanders
We know Eagles fans are excited about the team's 3-0 start, which puts them at the top of the NFC East and among the league's last three undefeated squads. Head out to the Linc to help them avenge their loss last season vs. the Washington Commanders, who handed the Birds their first "L" after eight straight wins last year.
---
Music
Philadelphia Orchestra Opening Night
World-class cellist Yo-Yo Ma opens up the 124th season of the Philadelphia Orchestra on Thursday night at Verizon Hall. He'll be playing one of his favorites "Cello Concerto No. 1," composed in 1959 by Russian composer Dmitri Shostakovich. It was specifically composed for Russian cellist Mstislav Rostropovich, but Ma says after hearing it for the first time as a teenager, it moved him so much he couldn't sleep. He could similarly inspire another young artist, but you'll have to be there to find out.
Toni! Tony! Toné!
As "Toni! Tony! Toné!" frontman Raphael Saadiq, his brother D'Wayne Wiggins, and cousin Timothy Christian Riley scored massive hits, including "Little Walter," "It Never Rains ( in Southern California)," "Feels Good," and "Anniversary" in the '80s and '90s. Despite their success, creative opportunities and internal strife led them in different directions. Now, Raphael has reunited with the group, and they're on tour. They make a stop at The Met Philadelphia Thursday.
Starman: The David Bowie Tribute
Though the original starman has left for another dimension, Johwie Bowie stands in his stead as David Bowie's tribute artist. He and his seven-piece band are performing Starman: The David Bowie tribute at City Winery. While a legend like Bowie can't be replaced, the reverence paid to his music ensures his legacy continues.


[ad_2]
Source link