The Atlantic City Beer and Music Festival Presented by Ocean Casino Resort
June 4 @ 12:00 pm

-

4:00 pm

$60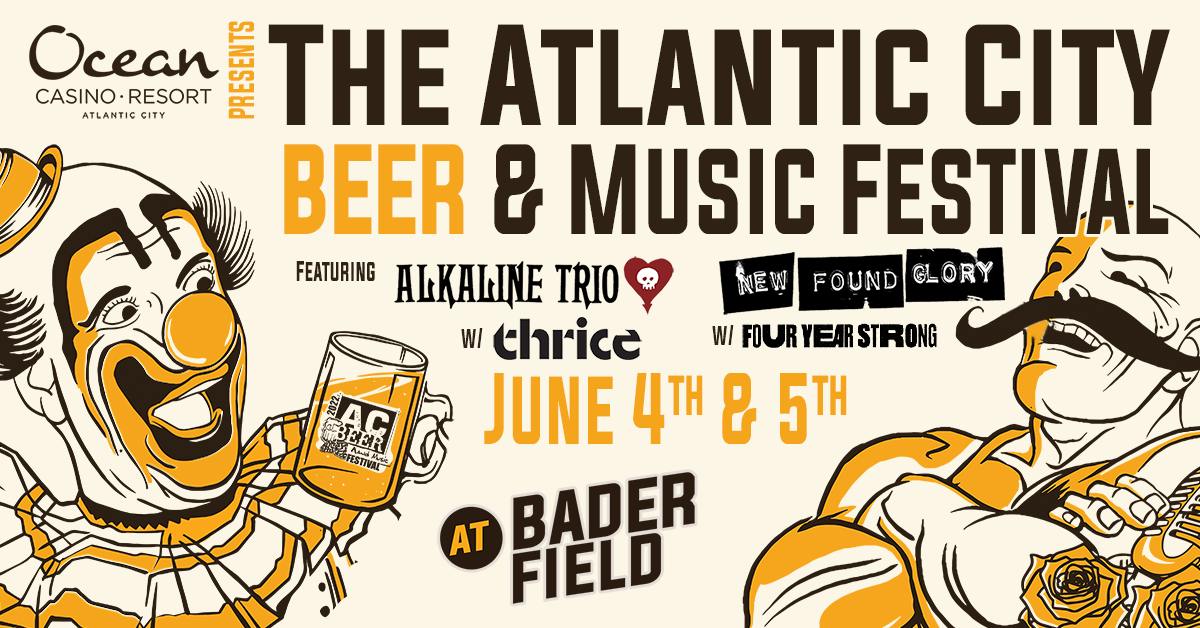 The Atlantic City Beer and Music Festival Presented by Ocean Casino Resort is returning to Bader Field in a big way Saturday, June 3rd, and Sunday, June 4th, for two days of great music, tasty beers, and off-the-wall activities! There is a reason the Atlantic City Beer and Music Festival is one of the most popular beer events in the country.
Bader Field sets the scene for the 3rd year in a row for another incredible beer and music celebration. 2022 was a blast, and the fresh Atlantic City air gave the festival the vibe we had been hoping for. So, of course, we are staying outside. Our creative gears are turning for the 2023 celebration of great beer, and the humans who create it will not disappoint. Quoting Stepbrothers Brennan and Dale, "look at all this space, there's so much room for activities." If you've attended the festival over the past 17 years, you know that there is no shortage of fantastic beer and beer-related shenanigans.
The Good Time Tricycle Productions team works year-round to compile some of the top names in the craft beer industry to gather in this seaside city for what is widely considered one of the most popular beer festivals on the east coast. The Atlantic City Beer and Music Festival is dedicated to craft beer and the opportunity to highlight the best in craft brewing. Beer enthusiasts will have the chance to compare classics side by side and sample new releases and ask questions to brewmasters and brewery team members from over 120 breweries. The goal of The Atlantic City Beer and Music Festival is to promote and educate attendees on craft beer while encouraging an opportunity for discovery. This event is the perfect opportunity for beer geeks, beer lovers, and beer beginners to speak to the brains behind the brews. It paves the way for discovery, deeper passions, and more memories! We encourage attendees to #drinkbetterbeer.
A proper craft beer celebration would not be complete without a stellar soundtrack. The 2023 Atlantic City Beer and Music Festival presented by Ocean Casino Resort will announce head-liners on February 1st. We are keeping big things under our hats and we are excited to share them with you then! The festival also plays host to an acoustic stage that features eight local artists unplugged and acoustic.
If beer and music aren't enough, the festival will also feature world-famous cuisine from staple Atlantic County restaurants, culinary demonstrations, educational seminars, sideshow acts, and some "off the wall" activities. You're invited to enjoy hot wing eating contests, larger-than-life games, Silent Disco, hatchet throwing, keg tossing, and so much more, all in one place! In addition, non-brewery vendors will offer unique beer-related apparel and goods that are sure to please long after the session ends.
In 2016, The Atlantic City Beer and Music Festival launched the first annual Hops Trot 5K. The fun run was a huge success as hundreds of runners explored the boardwalk course and ended in the festival's session ahead of the masses. The 2023 Hops Trot will take place Sunday, June 4th at 10:00 am, starting at Ocean Casino Resort. This fun run will send racers down the boardwalk to some of Atlantic City's favorite watering holes, ending on Bader Field just in time for Session 2 of The Atlantic City Beer and Music Festival. Costumes are encouraged!
Tickets for the 2023 Atlantic City Beer and Music Festival are on-sale December 1st, and attendees can choose from 2 Sessions:
Session 1 featuring: TBD Saturday, June 3rd from 2:00 pm – 6:00 pm
Session 2 featuring: TBD Sunday, June 4th from 12:00 pm – 4:00 pm
For a complete list of all festival breweries, musical lineups, shenanigans, and activities, please check out www.acbeerfest.com. Always check back for updates as it's constantly changing.
The 2023 Atlantic City Beer and Music Festival will offer special hotel rates to festival attendees. Go to www.acbeerfest.com and click "Stay" at the top of the page for hotel options.
All attendees are urged to taste responsibly. Please know your limits and book your hotel rooms now. No one under the age of 21 will be admitted into the festival. Valid photo identification must be presented.