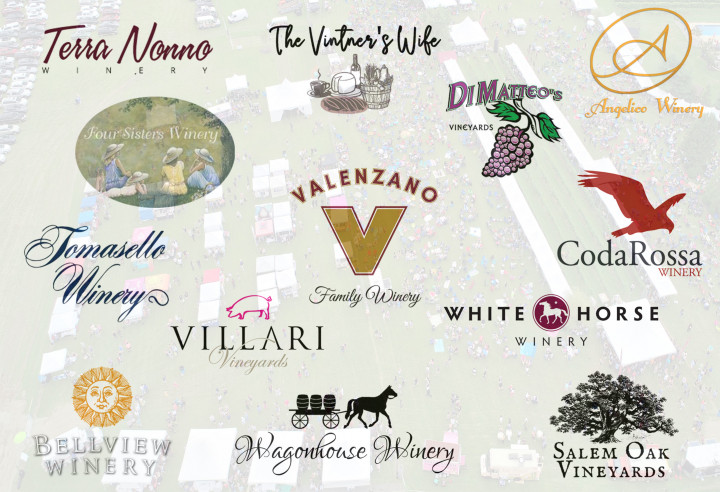 New Jersey's favorite wine and music festival will be back for its 20th year. Don't miss the most anticipated and talked about fall event in New Jersey. Each year we make this event bigger, better, more fun, more comfortable and more entertaining. Each year we get many visitors who say it can't get much better – we rise to the challenge.
-Try our new Jersey Devil Blueberry Port!!!
-Wine tasting from 12 of NJ's favorite wineries – over 100 wines to sample!
-4 stages of music & entertainment
-Five Dollar Shakes, Good Man Fiske, Mystery Machine, and many more of NJ's hottest entertainers…
-Over 60 local crafters and vendors
-Endless food options from local restaurants and food trucks
-Sample Valenzano Winery's special releases
-Community Care Food & Clothing Pantry featuring Brotherton Brewing Co. Special donation check presentation on Sunday September 17th.
-New York City's most mind-blowing street magician.
-While this is a rain-or-shine event, WineFest may be cancelled due to acts of God, severe winds, or government lockdowns. If this occurs your VIP Tent (minus service fees) will be refunded. Your ticket purchases will not be refunded. Tickets will be converted to a Valenzano Winery Voucher. This voucher can be redeemed for its face value (minus service fees) for bottled wine purchases made at our winery during regular business hours (take-out only). Please do not proceed with your purchase if you are not in 100% agreement with this cancellation policy.
Entertainment schedule:
Beer Garden Stage
11:00 AM to 12:00 PM – Mark Burgo
Vineyard Stage
12:00 PM to 12:50 PM – The Five Dollar Shakes
Beer Garden Stage
12:50 PM to 1:40 PM – Mark Burgo
Pavilion Stage
12:50 PM to 1:40 PM – Cat 5
Vineyard Stage
1:40 PM to 2:30 PM – The Five Dollar Shakes
Beer Garden Stage
2:30 PM to 3:20 PM – Mark Burgo
Pavilion Stage
2:30 PM to 3:20 PM – Cat 5
Vineyard Stage
3:20 PM to 4:10 PM – The Five Dollar Shakes
Pavilion Stage
4:10 PM to 5:00 PM – Cat 5
Doors open at 10:30am
Genaral Admission Ticket: $40.00, Under 21 Ticket: $15.00
13 of New Jersey's Favorite Wineries!
175 locally produced wines available!  These local wineries can't wait to show off their new vintages. Award winning wines from some of our favorite neighbors and across the state of New Jersey. Sample wines of all styles. You are guaranteed to find your new favorite wine! Confirmed for WineFest 2023: Wagonhouse Winery, Bellview Winery, Terra Nonno Winery, Tomasello Winery, Coda Rossa Winery, DiMatteo's Vineyards, Valenzano Winery, Four Sisters Winery, Villari Vineyards, Vintner's Wife Cream Collection, Salem Oak Vineyards , and Angelico Winery.   We just confirmed White Horse Winery is back with us again this year!