Blueberry Cafe Juice Bar And Vegan Grille
Blueberry Cafe' Juice Bar & Grille in Newark, New Jersey is a unique cafe that specializes in organic cold-pressed juices, smoothies, vegan wraps, and soups. The cafe was created with the mission of helping people live healthy lives through food. The heart and soul of the cafe is encouraging people to live healthy through food.
The cafe offers a wide variety of juices and smoothies that are made with fresh, organic fruits and vegetables. The juices and smoothies are designed to boost energy levels, improve digestion, and promote overall health. The vegan wraps and soups are also made with fresh, organic ingredients and are designed to be healthy and filling.
The cafe is committed to helping people live healthier lives and offers a variety of resources on its website, including recipes, tips for living a healthy lifestyle, and information on the health benefits of juicing and smoothies. The cafe also offers juicing and smoothie workshops to help people learn more about how to make healthy choices.
Blueberry Cafe' Juice Bar & Grille is the perfect place for people who are looking for a healthy alternative to fast food. The cafe offers a wide variety of healthy options that are sure to satisfy any craving.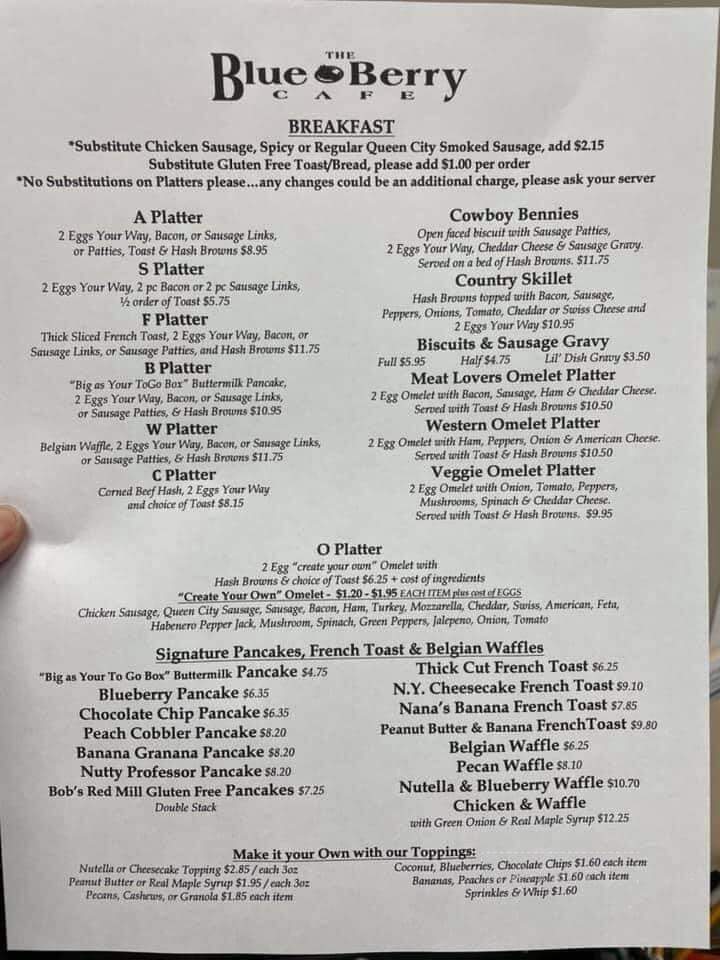 Organic Herbal Teas
(We customize teas, healing remedies, Energizers...just ask a Cafe' staff member for more details)
Loose Herbs (steeped or bagged) $3.50oz
*Dandelion
*Burdock Root
*Red Clover
*Damiana
*Raspberry
*Sarsaparilla
*Linden Leaf
*Spearmint
Black Chai
Chai
Green
Dr. Sebi inspired
Organic Smoothies
(From $5-$12)
*BODY BUILDER $12
Irish Moss
Bladderwrack
Hempseed Milk
Ceylon Cinnamon
Coconut Water
Dates
*SEEDS OF LIFE $11
Hemp Seeds
Sesame Seeds
Pumpkin Seeds
Blueberries
Dates
Coconut Milk
*BURRO BANANA BANGER $8
Burro Figs
Burro Banana
Hemp Seeds
Ceylon (Cinnamon)
Date syrup, Coconut Water
______________________________________________________
*GREEN TEAM $11
Kale
Basil
Keylime
Avocado
Dates
*STRAWBERRY CRUSH $5, $7 or $9
Strawberries
Burro Banana
Goji Berries
Hemp Seeds
Coconut Water
*COCONUT-MANGO $12
Mango
Fresh Coconut
Lime
Burro Banana
Kale
Coconut Water
*FERTILITY (WOMAN'S WOMB & BREAST SUPPORT) $12
Sea Moss (w/ 11 herbs for the female anatomy)
Soursop
Goji Berries
Coconut Water
DAILY SOUPS (may vary depending on season n freshness of vegetables and the Chef's inspiration)
Wild Rice Kale Soup
Quinoa Chili Soup
Kale Soup
Amaranth Soup
Cactus Soup
Teff Soup
SIDES $6
*Quinoa Patties
* Mushrooms Nuggets w/ BBQ Sauce
FRESH MADE DRINKS (Occasional Chef Specials)
Tamarine Juice
Sorrell
We Appreciate your Patronage!
We Appreciate your Patronage!
SAVORY ALKALINE
Lunch/Dinner
MENU
**********************************
MEATLESS MONDAY'S
*Pasta & Mushrooms w/BBQ Sauce $15
*Soup of day (SM$6) (M$8) & (LG $12)
*Portobello Pita $13
*BBQ Quinoa-Wild Rice Platter $18
*************************************
TACO TUESDAY'S
~Enjoy delicious Vegan Taco's, filled the way you like it- on a Crispy Blue Corn Shell!
TACO'S $12
*Walnut Meat
*Black Bean Meat
PASTA SALAD & MUSHROOMS $15
Kamut pasta with veggies topped w/ BBQ Mushrooms
SOUP OF THE DAY
***************************************
WELLNESS WEDNESDAY!
WALNUT TOONA ON SPELT TOAST $13
~Delicious walnut meat, leaf lettuce, tomatoes, onions, avocado and kalamata olives -House drizzle
KALE SOUP (Sm$4) ($8) & ($12)
WILD RICE PLATTER $15
w/ BBQ Quinoa Patty and Black Beans
**************************************
SEBI STYLE THURSDAY'S $20
Wild Rice , BBQMushrooms, butternut Squash & Chickpeas
KAMUT PASTA SALAD $15
Twisty pasta, veggies, topped w/ mushrooms and Chef's BBQ Sauce
SOUP OF THE DAY
***************************************
PASTA FRIDAY'S $20
Vegan's Delightful Spaghetti Pasta made from Organic Kamut , topped with delicious roma tomatoes red sauce, fennel meat & herbs
PASTA & MUSHROOMS
Kamut Pasta, Arugula, Purple Onions, Red Bell Peppers, Olives, Roma Tomatoes, Olives, Chickpeas, Topped with Fresh Avocado
Monday to Friday: 7:00 AM - 7:00 PM
Saturday: 9:00 AM - 7:00 PM
Sunday: 11:00 AM - 5:00 PM
Contact Information
547, Central Avenue, Roseville, Newark, Essex County, New Jersey, 07107, United States