Cedarvale Vineyard & Winery
Located in the midst of a breathtakingly beautiful, serene natural setting, Cedarvale Vineyard & Winery is more than just a winery it is an experience. This delightful winery satisfies all wine aficionado's appetites with its range of quality wines that are perfectly suited to their palates. Cedarvale's winemakers constantly endeavor to create diverse wines, all distinctive, aromatic, and complex in flavor. They use nothing but the finest grapes and the most traditional techniques to bring out the delightful and unique flavors of their wines. The estate possesses vineyards that are surrounded by rolling hills, lush vineyards, and tall trees that lend an inviting and relaxing atmosphere to anyone looking to escape the stress and noise of everyday life. The winery provides visitors with an intimate and beautiful tasting room to sample their variety of wines, learn about the winemaking process, and connect with like-minded wine enthusiasts. At Cedarvale Vineyard & Winery, the passion for wine is not just a product, it is truly a way of life.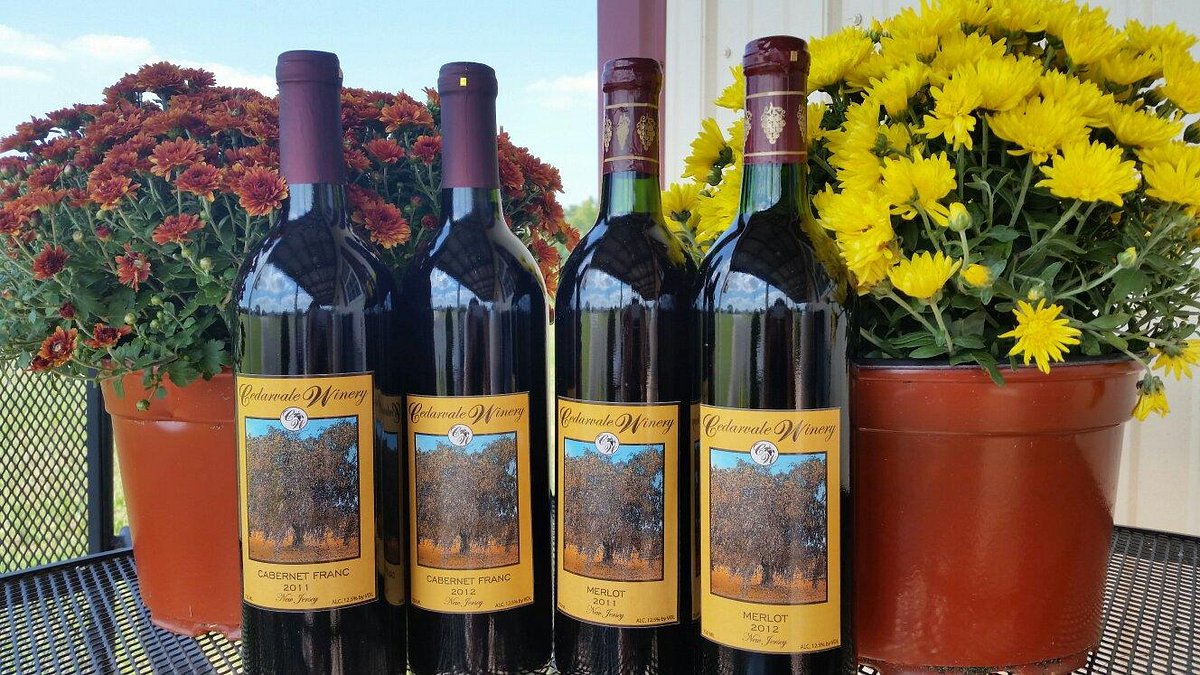 Merlot
Dry Red wine with black cherry, raspberry and plum flavors. Aged in American Oak for two years. Medium tannin, medium acidity. Pairs well with chicken and other light meats as well as lightly spiced dark meats.

Cabernet Franc
Dry Red, medium bodied, acidic, accents of tobacco and dark spice. Green Pepper flavors. Aged for two years in American Oak. Pairs well with tomato based dishes, goat cheese and spinach.

Chambourcin
Dry Red, high acidity and low tannin. Hints of black cherry, black pepper, tart red fruit and chocolate. Aged in American oak for two years. Pairs well with grilled chicken, pork and raspberries.

Concord
Sweet Red, light, crisp, jam flavor, mixed berries. Pairs well with berries, fruit and light cheeses.

Flight of Fancy
Flight of Fancy is a dry red blend; equal parts of Merlot Chambourcin & Cabernet Franc. Aged in oak, smooth full body dry red.
Pinot Grigio
Dry White wine, medium body, hints of lemon lime and melon, crisp finish. Aged in stainless steel. Pairs well with seafood, light pasta and assorted cheese combinations.

Chardonnay
Dry white wine aged in American Oak. It is medium bodied, fruit flavors such as apple, pineapple and citrus. Full buttery finish. Pairs well with chicken dishes, fruits and various cheeses.

Sunrise Chardonnay
Made in stainless steel tank
Blueberry Table Wine
Semi-sweet fruit wine. Made with local blueberries. Medium body, light acidity. Pairs well with light cheeses and Vanilla.

Cherry Table Wine
Semi sweet red, tart cherries, cherry pie flavors. Serve chilled with sweet and sour dishes. Substitute wine for water in a brownie mix. Add to Hot Chocolate.

Strawberry Table Wine
Sweet Pink wine, strawberry jam, made with local fruit. Serve chilled. Pairs well with butter or vanilla ice cream.
Apple Table Wine
Made with a medley of apples, smooth yellow apple initially, crisp green apple finish. Served chilled or warm. Pairs well with cinnamon.

Nectarine Table Wine
Light crisp white wine, made with local nectarines. Hints of peach and nectarine. Pairs well with mild cheeses, light flavored fruit.
HOURS
Thursday & Friday: 12pm – 7pm
Saturday: 11am – 7pm
Sunday 11am – 5pm
Monday: 12pm – 7pm
HOLIDAY HOURS
December 24 and December 31: 11am – 4pm
December 25 to 26 and January 1 to 2: Closed
Contact Information
205, Repaupo Station Road, Repaupo, Logan Township, Gloucester County, New Jersey, 08085, United States