Terhune Orchards Vineyard & Winery
Score: 6.9
Terhune Orchards Vineyard & Winery is undoubtedly a hidden gem filled with surprises and tucked away in a quaint corner of the world. From the moment you step foot in this captivating spot, you are transported into a world of absolute bliss. The lush greenery, the chirping birds, and the fragrant aroma of grapes swirling in the air, all work together to create an enchanting atmosphere.
What sets this charming vineyard apart is the painstaking effort that goes into producing each bottle of wine. The meticulous attention to detail, the passion for all things grapes, and the skilled craftsmanship all combine to create wines that leave a lasting impression on your palate.
At Terhune Orchards Vineyard & Winery, it's all about making sure that each wine embodies the essence of the grape. Whether you're a veteran wine aficionado or just starting on your wine journey, there's something for everyone at this welcoming winery. With a wide selection of crisp whites, bold reds, and utterly delicious blends, Terhune Orchards Vineyard & Winery exudes a charm that is hard to resist. Discover the secret of this exceptional vineyard and winery, and be transported into a world of taste sensations that will leave you longing for more.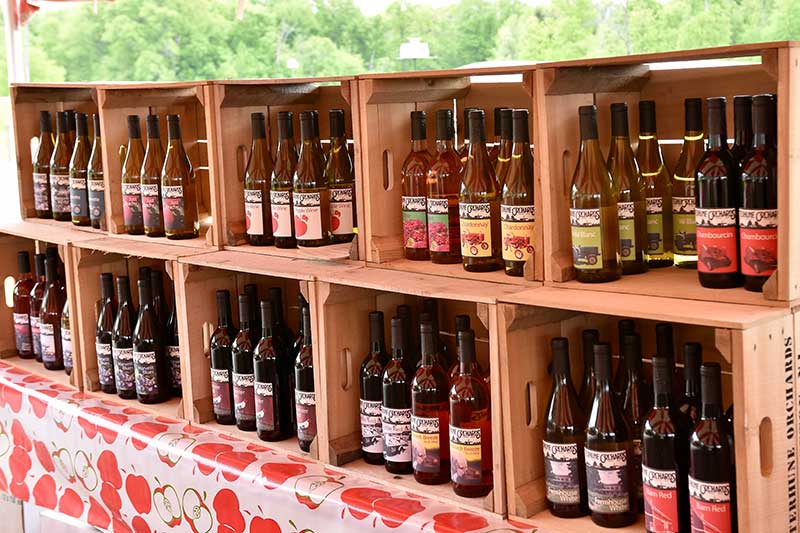 Terhune Orchards is a family owned and operated 250-acre, sustainable farm in Princeton, NJ. The Mount Family is the 10th generation of farmers in central New Jersey, providing fresh fruits and vegetables from its current location for more than 45 years.
Visitors come from near and far to enjoy a variety of family farm activities, shop in the Farm Store and winery and pick their own fruits and vegetables.
Owned and operated by Pam and Gary Mount, and daughters Tannwen Mount and Reuwai Hanewald, Terhune Orchards Vineyard and Winery offers an exciting selection of award-winning red, white and fruit wines crafted from our own vineyards and orchards. Terhune Orchards is one of the few operating family farms in the Garden State to also have a winery and tasting room. Wine is sold in the winery, the farm store  and online.
The winery is in the open air setting of our 100-year-old historic apple orchard. Wine and live music events throughout the year are popular activities at Terhune Orchards.
Contact Information
330 Cold Soil Road Princeton, NJ 08540